This year, as the weather gets warm you can stay cool and relaxed while saving precious time and money by installing and using a convenient automatic lawn sprinkler system. Once they have been installed, automatic sprinklers can basically be forgotten about as they keep your lawn and garden beautifully lush and perfectly hydrated all season long. You'll have a gorgeous-looking lawn without having to do anything – all thanks to your foresight and planning in installing the perfect sprinkler system.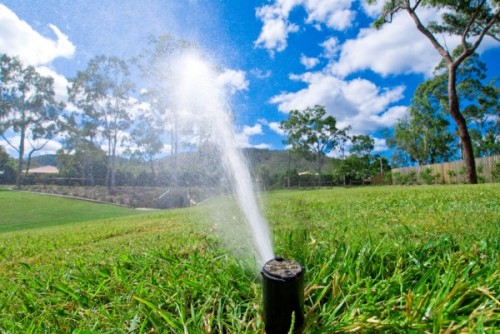 No one can predict the exact amount of rainfall their specific area will get in a season, week or even in a day, as any gardener knows, which is why watering your lawns and gardens is an imperative step in the process of keep them perfectly hydrated and beautiful. Watering by hand with a garden hose can be time consuming and it is often hard to determine how much water you are putting on your lawn and often some areas may be getting overwatered as others are not getting enough water.
Using traditional lawn sprinklers might seem like the answer, but with this method it is still difficult to determine how much water each area of your lawn is getting because they can often get clogged or do not water consistently enough. You may even be wasting your valuable time as you trek out to turn on the hose once or twice a day and run the risk of forgetting to turn it off and flooding your lawn and ruining your precious foliage. And what if you can't be home? Relying on timers can be nerve wracking, as they could malfunction or their batteries could run out if they are not being checked frequently enough.
Automatic sprinklers like the ones you'll find offered at EZ Lawn Sprinklers are convenient and easy to use if installed properly. They allow your lawn and garden to be properly and consistently hydrated and are one of the best investments you can make for a more beautiful home. Saving money is easy – your plants and lawn remain lush and beautiful as they are getting just right amount of water, saving you from both the cost of replacing plants and repairing your lawn as well as the cost of high water bills.
Most automatic lawn sprinklers are easy to use and are programmed to automatically turn off if it rains. You can also program many systems not to run on certain calendar days of the year or to turn off on a specific date. If installed and maintained properly, automatic lawn sprinklers will also have several safety features to protect water supplies as they prevent backflow and sense excess water to save you even more money and create an even greater sense of peace of mind.
So this spring and summer, put down the hose and instead pick up a glass of lemonade as you watch your lawn and garden transform into the beautiful landscape that you have always dreamed of with the help of an automatic lawn sprinkler. You'll be the envy of the neighbourhood in no time!